Company Overview
Name of Company
Morimoto Kazari Kanagu Seisakusho
Morimoto Decorative Metal Workshop Ltd.
Address
59 Yaoyacho, Yobai Dori Nishi no Toin Higashi Iru, Shimogyoku, Kyoto, JAPAN 600-8321
TEL
075-351-3772
FAX
075-361-8877
E-mail
info@morimotokazari.co.jp
Foundation
1966 7th March
List of articles manufactured by the company
Architectural decorative metal fittings
chigi, katsuogi, ridge decorations, gable barge board decorations, rafter ends, door fittings, threshold fittings, balcony / veranda balustrade fittings, post fittings, frieze rail fittings, door locks and hinges, etc.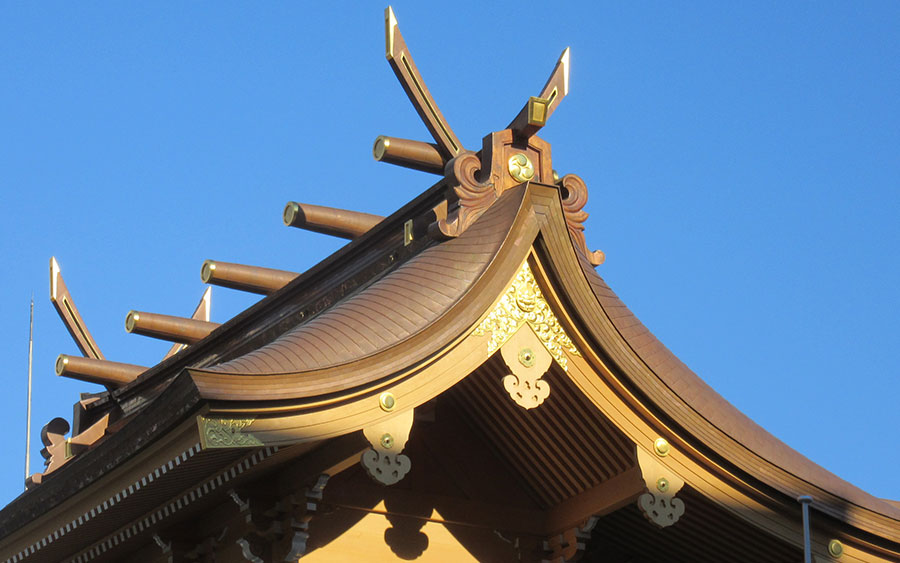 Furnishing and interior decoration of shrines
Sacred mirrors, sword fittings, spear fittings, fittings for shields, bows, arrows, baldequins, Chinese chests, kicho screens, gold-coloured Shinto offerings, sake dippers, jars, koma inu (lion dogs), bells for sacred danced, votive lanterns etc.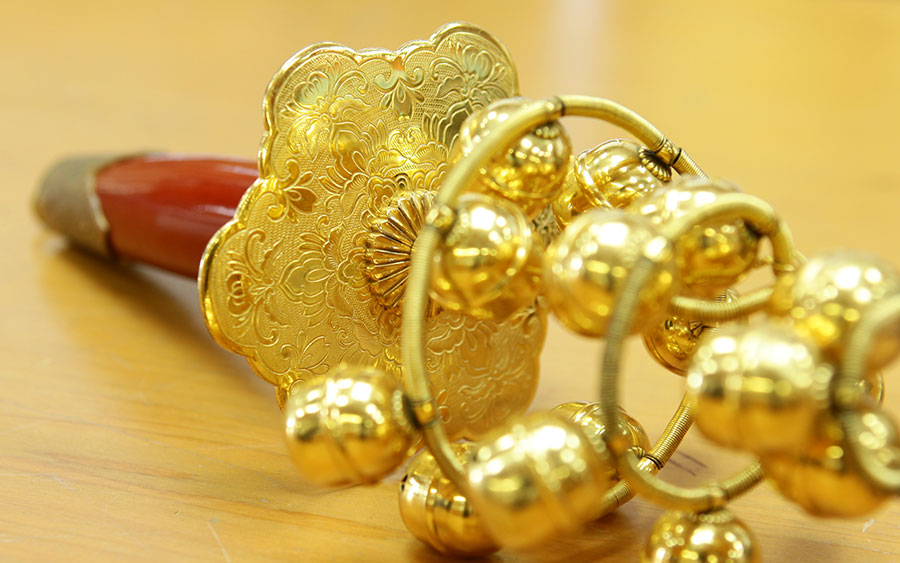 Ceremonial utensils
Mikoshi (divine palanquins), festival floats, palanquins, litters, fittings for swords and spears, divine crowns etc.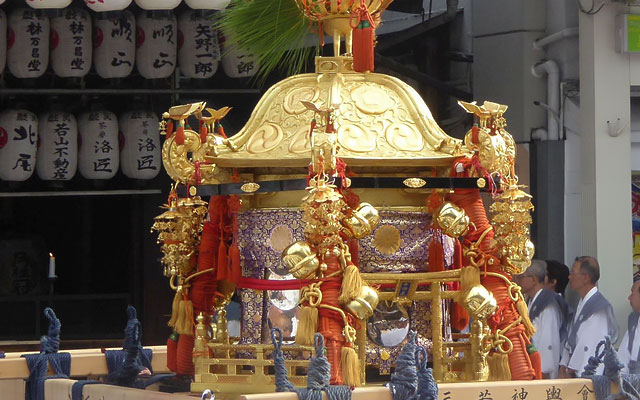 Buddhist ritual utensils
image cabinets, Buddhist altar fittings, canopies, flags, etc.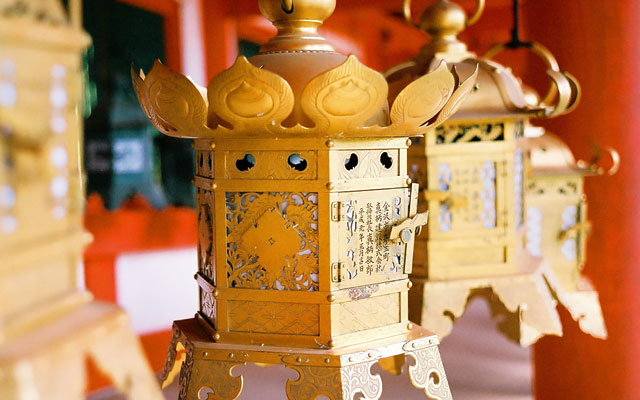 Others
instruments for ceremonial court music, decorative elements for Noh costumes, metal decoration for annual festival dolls, utensils, decorative metal fittings for Japanese and Western furniture, hikite (door pulls) for sliding screens, nail covers for frieze rails, decorative interior metal fittings, personal metal ornaments, all kinds of metal craft objects, etc.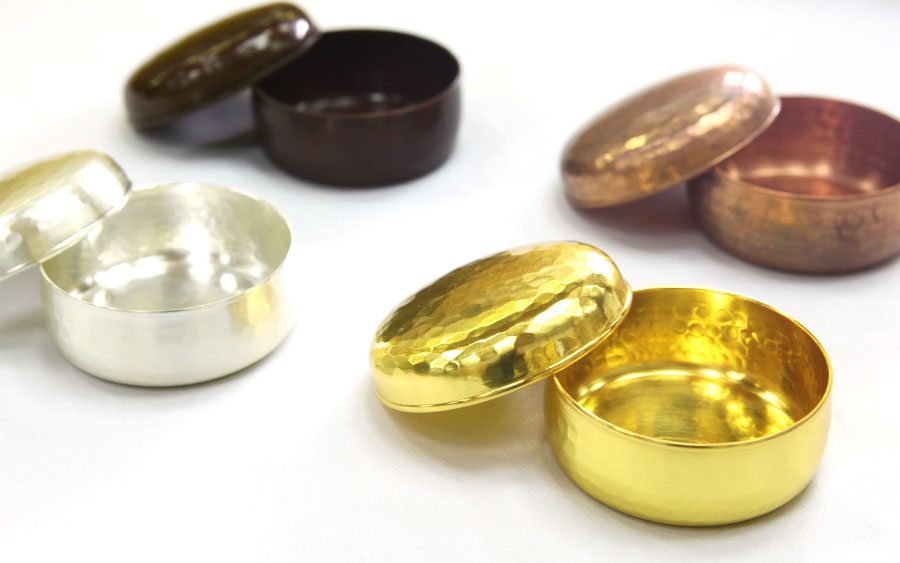 Registration organization
A SELECTION OF HISTORIC BUILDINGS & SITES WITH METAL FITTINGS SUPPLIED BY MORIMOTO DECORATIVE METAL WORK SHOP:
Asakusa Kannnon Temple(Sensoji)(Tokyo)
Benden,National Diet Building(Tokyo)
Chion-in(Kyoto City)
Daigakuji(Kyoto City)
Daigoji(Kyoto Prefecture)
Daitokuji(Kyoto City)
Gangoji Gokurakudo(Nara City)
Golden Pavilion(Kinkaku)Rokuonji(Kyoto City)
Hawaii Kinkaku(Golden Temple in Hawaii)
Heian Jingu(Kyoto City)
Hie Taisha(Otsu City,Shiga Prefecture)
Hieizan Enryakuji(Shiga Prefecture)
Hikone Castle(Hikone City,Shiga Prefecture)
Horyuji(Ikaruga,Nara Prefecture)
Honden buildings of the Geku and Naiku Shrines at Ise Jingu(Mie Prefecture)
Itsukushima Jinja(Hiroshima Prefecture)
Iwashimizu Hachimangu(Kyoto City)
Izumo Taisha(Shimane Prefecture)
Kamo Wake Ikazuchi Jinja(Kami Kamo Jinja)(Kyoto City)
Kamo Mioya Jinja(Shimo Kamo JInja)(Kyoto City)
Kashiwara Jingu(Nara Prefecture)
Kasuga Taisha(Nara Prefecture)
Kenninji(Zen Buddhist Temple,Kyoto City)
Kitano Tenmangu(Kyoto City)
Kodaiji(Zen Buddhist Temple,Kyoto City)
Kofukuji(Nara Prefecture)
Kongobuji Daito(main pagota in Koyasan,chief temple of the Mikkyo Sect of Buddhism,Wakayama Prefecture)
Kumamoto Castle(Kumamoto Prefecture)
Kyo-ogokokuji(Toji)(Kyoto City)
Kyoto Gosho(Imperial Place)
Meiji Jingu(Tokyo)
Myohoin & Sanjusangendo(Kyoto City)
Myoshinji(Kyoto City)
Nanzenji(Kyoto City)
Nijo Castle(Kyoto City)
Ninnaji(Kyoto City)
Nishi Honganji(Kyoto City)
Onjoji(Miidera)(Shiga Prefecture)
Sankei-en(open air museum of historic buildings,Yokohama,Kanagawa Prefecture)
Shugakuin Detached Place(Kyoto City)
Silver Pavilion(Ginkaku),Jisshoji(Kyoto City)
Taimadera(Nara Prefecture)
Todaiji(Nara Prefecture)
Toshodaiji(Nara City)
Tsurugaoka Hachimangu(Kamakura city,Kanagawa Prefecture)
Yasaka Jinja(Kyoto City)
Zojoji(Tokyo)
(Examples arranged in alphabetical oeder)